Marmaris Activities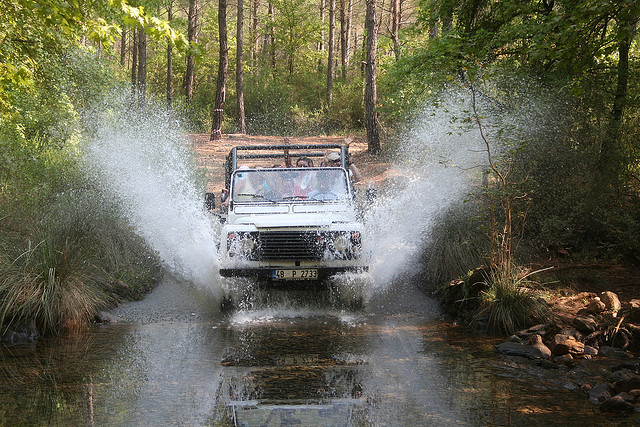 Marmaris – Popular Excursions
There's no doubt that Marmaris is a popular seaside destination, where tourists can enjoy the best that Turkey's Aegean Coast has to offer. Lazy days on the beaches, lively nights out, and plenty of culture are the top reasons why so many tourists come on holiday in Marmaris. But why stop there?! Marmaris and the surrounding region has so much more to see and do!
On the Water in Marmaris
Marmaris has grown into a popular sailing destination and has two large marinas and a number of smaller ones, even cruise ships call at Marmaris! So what better place to enjoy a day out on the shimmering waters of the Aegean than in the Marmaris area.
There's plenty of scenic beauty to enjoy from ashore, but it's touring the bays from the water that you really get to see just how beautiful Turkey's Aegean Coast is. Take a boat trip into neighbouring bays where you can have a swim, right from the boat! A selection of days out on a boat are offered, providing you with a tasty meal and plenty of opportunity for sunbathing and admiring the views.
There are nearby islands you can explore too by boat, or make use of the great location of Marmaris and take the ferry to the Greek island of Rhodes, or take the hydrofoil around the Datca Peninsula to spend a day in Bodrum.
While on holiday in Marmaris you might also like to try some snorkelling or diving, swim with dolphins, or even go river rafting!
Excursions for the Adventurous
If you enjoy an adrenalin rush, holidays in Marmaris offer far more than just river rafting! The Quad Safari is great fun as you get to go off road and drive your own quad bike, or stay on more beaten track on a Jeep Safari. Go Kart Dodgems are also a popular attraction in the Marmaris area, or for a change of pace experience the beautiful pine clad mountains surrounding Marmaris by horseback.
Historical and Cultural Excursions
The whole of the Aegean Coast is full of history. Ancient civilisations once called this home, and when you holiday in Marmaris you have the opportunity to see the awe inspiring remains that still stand today.
Ephesus is probably Turkey's most spectacular ancient city, and the tall columns of its library are amongst the most famous images of south west Turkey. When you holiday in Marmaris, Ephesus is accessible for a day trip, and it's highly recommended.
Pamukkale is another famous attraction; in fact it's one of the best known in the whole of Turkey. The 'cotton castles' are like nothing you've ever seen before with their frozen in time waterfalls.
And, after a day on the road there's nothing better than a Turkish Bath! Rejuvenate your body and soul through this age-old process, available right here in Marmaris!